We are currently filming a documentary on Architectural Design here in Ho Chi Minh City Vietnam and had the opportunity to visit the recently opened Cafe Giàn Giáo. In fact it had only been open for four days!
Designed by A21 one of Vietnam's most innovative Architecture studios, the building incorporates salvaged street utilities such as a concrete electricity pole and an old public address system.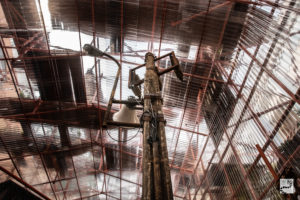 The name Cafe Giàn Giáo means something like Cafe Scaffolding and at first you could be forgiven for thinking that perhaps the building is still under construction but a closer examination reveals that the scaffolding is actually supporting a number of traditional wooden fishing canoes all loaded with lush tropical vegetation. The building itself is entirely clad in clear plastic so that patrons can enjoy looking at the plants and the slightly diffused and flickering passing traffic.
The staff are friendly and attentive and the owners are really lovely people. We sampled a delicious beef casserole served with freshly baked Vietnamese rolls.
We were even allowed out onto the roof to film, the gardens were being visited by small birds and the first butterfly we've seen in Vietnam.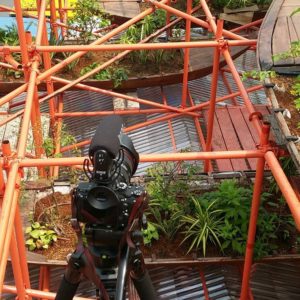 The Cafe is open 24/7 and at night you can see it all lit up from outside and the people moving about inside.
You can visit Cafe Giàn Giáo at: 141 Hoang Van Thu Street, Ward 8, Phu Nhuan District, Ho Chi Minh City.